Extreme overclocker uses Intel Core i9-12900K and AMD Radeon RX 6900 XT to break long standing 3D Mark Fire Strike record
Based on what we've seen so far, Intel's Alder Lake processors have proven themselves to be quite overclockable. The top-of-the-line Intel Core i9-12900K was pushed to 7 GHz with liquid nitrogen, and even the non-K Core i5-12400 hit 5.2 GHz on all cores.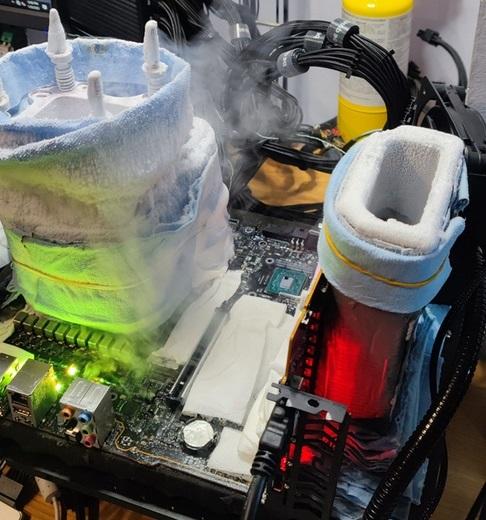 On a similar note, AMD's Radeon RX 6000 series graphics cards have been equally impressive, with the RTX 6800 breaching the 2.8 GHz barrier. Now, an overclocker has combined the Core i9-12900K and Radeon RX 6900 XT to break one of 3D Mark Fire Strike's oldest records.
Extreme overclocker BISO BISO just posted a screenshot of his record-breaking score of 62,389. It beats Kingpin's record of 61,206, which has been unbeaten for over two years, thanks to its legendary Intel Core i9-10980XE and 4x GeForce GTX 1080 Ti's in SLI.
The new 3D Mark Fire Strike record involved pushing the Core i9-12900K to 7.0 GHz and the Radeon RX 6900 XT to 3.1 GHz. Other build components included an EVGA SuperNOVA 1600W PSU and EVGA Dark Z690 Kingpin Edition motherboard.
BISO BISO also set new records for 3D Mark Fire Strike Extreme (35,743) and Ultra (18,433) benchmarks, but only in the single GPU category. Kingpin's multi-GPU setup still holds the overall record.