Black Friday's best Xbox Series S bundle is back at GameStop
Black Friday wasn't exactly the best time to pick up an Xbox console, with ongoing supply issues making stock near-impossible to find throughout the weekend. Your chances of scoring an Xbox Series X were slim, with restocks scooped up in seconds, while the Xbox Series S proved a hot commodity even without Black Friday discounts.
Microsoft's first official Xbox Series S bundle, themed around hit titles Fortnite and Rocket League, ended up being one of the best deals this Black Friday. The newly launched package includes Microsoft's latest console for $299, easier on the budget and ideal for kids, coupled with bonus in-game DLC at no additional cost. While it was scooped up fast in the leadup to Black Friday, GameStop has just re-opened online orders with new stock.
The Xbox Series S Fortnite and Rocket League System Bundle costs $299.99. GameStop also has three months of Microsoft's Xbox Game Pass Ultimate membership up for $9.99 when purchased with a console, a $35 discount on the usual $45 RRP.
Grab the new Xbox Series S bundle at GameStop
While Xbox Series X remains impossible to track down, you might be able to score the more affordable Xbox Series S. It plays the same next-generation games as Xbox Series X, albeit better suited to HD gaming, rather than 4K resolution. It's also missing a disc drive, making this perfect for Xbox Game Pass and digital gaming. GameStop has stocked the first Xbox Series S bundle, bundling Fortnite and Rocket League bonuses at no extra cost.
$299.99 at GameStop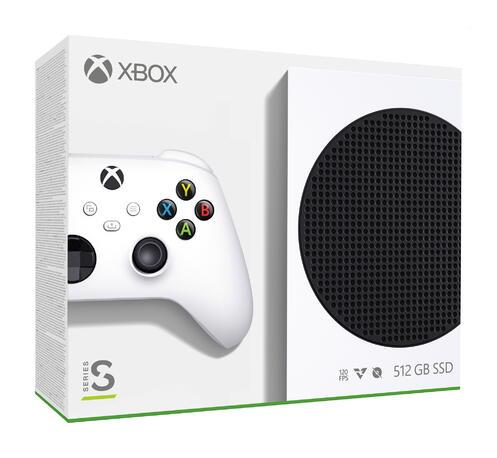 The Xbox Series S is one of Microsoft's two next-generation video game consoles, sharing a lot with its flagship Xbox Series X. It's built on the same fundamentals, including similar CPU and GPU architecture, plus speedy solid-state drive (SSD) storage for reduced load times and supporting more complex game worlds. It plays all the next-gen games exclusive to Xbox Series X, including Microsoft Flight Simulator and future releases not headed to Xbox One.
That $299 price point means some compromises, targeting HD gaming, rather than full 4K visuals supported by Xbox Series X. While it supports 4K video streaming, ideal for services like Disney+ and Netflix, it also has no disc drive, meaning you can't play physical disc-based games or movies. It's best when paired with Microsoft's Xbox Game Pass subscription service or buying games through the Xbox Store.
Xbox Series S has a 512GB SSD, with ample room for a few games out of the box. However, with game sizes continuing to grow, you can also expand your Xbox Series X or Xbox Series S storage with an external USB hard drive for cheap.
As Cyber Monday approaches, we continue to round up the best Xbox Series X deals, including planned restocks ahead.
We may earn a commission for purchases using our links. Learn more.
serious allegations
A former Microsoft employee has claimed that the company is connected to hundreds of millions of dollars in bribes each year. According to the allegations, Microsoft employees created fake purchase orders and took part in other questionable practices.
Big changes
Playground Games has revealed details for the upcoming Series 6 update in Forza Horizon 5 and the new Festival Playlist, which will feature dozens of new features and improvements for the always-improving open-world racing game.
hackerman.jpg
The cybercriminal group that's made a name for itself as one of the biggest tormentors of Big Tech in 2022 is, apparently, run by teenagers (at least in part).
Next-gen boards
Xbox Series X and S continue Xbox's support of mouse and keyboard control, so we rounded up the best keyboards to use with your next-gen console.